Wherever You Are Walking
Sing For Water
A mass singing project that brings singers from many choirs together in concert to raise money for WaterAid projects in Africa. Sing For Water has raised well over a million pounds for WaterAid projects thanks to the tireless work of the creative teams, producers, choir leaders and singers in the UK and beyond.
Large events happen in London, Bristol, Leicester and Manchester with smaller events happening all around the country, sometimes in inventive ways like in swimming pools and on piers. Catherine Reiser, formally of Thames Festival, with whom I cooked up the first versions of it, organised a large version in Australia as part of the Commonwealth Games which I sang in with some Georgian friends.
The annual event in London is led by Katie Rose and Roxane Smith with Una May Olomolaiye, and formally by Roxane with Michael Harper.
Story
It started nearly twenty years ago when I had the idea to raise £1000 for water projects over a weekend of singing workshops. It has now raised more than a thousand times that.  I believe that the project has grown so much for two reasons. The first is the magical intoxication of singing fabulous music together with up to a thousand people combined with the feel good factor of making a difference. The second is the fact that the invitation to leaders around the country and abroad from the start was to invent it their way rather than to follow a set format, so that each group making an event is autonomous and can follow their own ideas and creativity, according to each place's needs. And thus many dedicated and inspired choir leaders and producers have developed the project in their own way to create memorable mass singing fundraising events.
A review from an early event:
"In Jubilee Gardens under the London Eye, singers from choirs from all over the country, and some from beyond, were conducted by the charismatic Helen Chadwick through a moving programme, including an Iraqi poem for peace and understanding set to mesmeric melody."
Explore
Michael Harper, who has conducted Sing For Water many times also featured the Royal Opera House in The Singing Circle.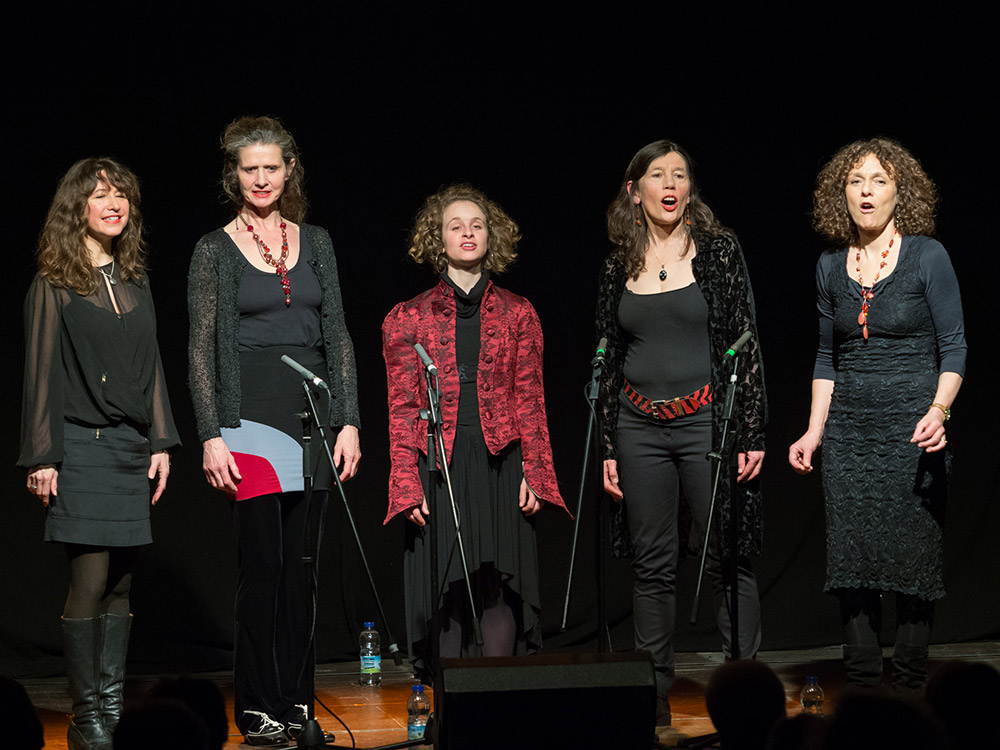 Concerts
Our programmes include
A Song in My Foot based on Latin and Indo-American music and poets.
House of Light songs to bring light in the dark times – album
Songs for the Way Home a concert version of Dalston Songs
Not The Love Story I Was Expecting for 6 singers
Songs For the Way Home a concert version of Dalston Songs
Women Sing Women a concert with texts by inspiring  female world poets and writers
Concerts are always packed stories of the poets whose work we are singing, or of the original's of the song's form, or of how it came to be composed.
We sing my settings of poetry including by Anna Akhmatova, Frances Bellerby, William Blake, Emily Dickinson, Hilda Doolittle (HD), George Eliot, Goethe, Hafiz, Nazim Hikmet, Kabir, Federico García Lorca, Antonio Machado, Recep Marasli, Osip Mandelstam, Pablo Neruda, Odia Ofeimun, Katheleen Raine, Irina Ratushinskaya, Rainer Maria Rilke, Christina Rossetti, Percy Blythe Shelley, Stevie Smith, Rabindranath Tagore, RS Thomas, Marina Tsvetayeva, Paul Verlaine, Virgil, Saadi Youssef and many others.
Performed by between 3 and 5 singers, sometimes a female group, sometimes mixed. The singers often include Victoria Couper, Joanna Foster, Barbara Gellhorn, Rebecca Thorn,  Matt Coombes and I, with guest singers joining us in different locations.  Covid permitting I will be establishing a South West based group of soloists in 2021.
Explore
Listen to some of the 300 songs in our repertoire.
Truth
I emailed people all over the world to ask them to send me a story of a moment in their life when they had told the truth or lied and the impact of doing so. From the responses I composed a song cycle which was then directed and choreographed by Steven Hoggett.
Presented by Helen Chadwick Song Theatre and November Productions.
Co-commissioned by Birmingham Repertory Theatre.
Produced by Alison Holder
Toured UK 2018/9
"Five stars" The Daily Spectacle
"Timeless and universal"
The Friend Magazine

"Absolutely gorgeous performance. Have never encountered anything like this before and found it truly amazing"
"Completely unique and totally mesmerising"
"Genuinely one of the most affecting and REAL performances I've seen. That blending of heart-rending stories, humour, light and dark – was extraordinary."
Audience responses
Cast: Helen Chadwick, Victoria Couper, Krystian Godlewski and Liz Kettle.
Production team: Alison Holder, Helen Chadwick, Steven Hoggett, Mark Friend, Helen Porter, Jennifer Rooney, Sarah Agha, Gemma Scott and Toby Farrow.
This song Truth is Beauty 3 is coming out shortly on a new album wherever you are walking, to receive details join the newsletter
Watch the trailer video for TRUTH
The Singing Circle
Rehearsal shots from The Singing Circle, a surround sound choral experience commissioned by the Royal Opera House in 2008.
The event celebrates difference and commonality in the rich diversity of singers and people in London. It received standing ovations as audience members stood and wept.
It runs at twenty five minutes and took place three times on one day using thee balconies and six raised wooded blocks. The choir and soloists moved between and through and above and around the audience to create a powerful ever changing vibrational and textual experience.
Audience feedback:
"The combination of the voices and movement was almost hypnotic and very powerful. I didn't want it to end"
"It was so inventive and varied."
Cast
London Sevdah, The Circle Choir and soloists Helen Chadwick, Matthew Coombes, Sian Croose, Barbara Gellhorn, Lucy Gibson, Sabika Gurda, Michael Harper, London Sevda, Soraya Mahdaoui, Roshi Nasehi, Nawros Oramari and Dessislava Stefanova.
Production Team
Composed and directed by Helen, it was created with the collaboration of with Sally Pomme Clayton (dramaturgy) and choreographer by Liam Steel (choreography) as well at the production team at ROH.
Explore
We ended this show with Michael Harper doing a joyous improv over the whole team singing My Mouth Is Everyone's Mouth later recorded on the House of Light album
War Correspondents
A Helen Chadwick Song Theatre production based on interviews with  journalists working in conflict zones in many parts of the world created with choreographer/director Steven Hoggett and creative collaborator Miriam Nabarro it toured in 2014.
War Correspondents is inspired by interviews with journalists covering conflicts including Bosnia, Iraq, Chechnya and Liberia. Interviewees discuss the guilt of filming people when they are at their most vulnerable, censorship, the increased dangers of working in the field since 9/11 and the personal cost to those reporting. Designer Miriam Nabarro and I interviewed thirty journalists, and from these interviews I created a song cycle for five voices which Steven Hoggett then choreographed and staged.
"As ever, straight to the heart and beautifully composed and constructed"
Alison Duthie ROH2 Programmer
"Chadwick produces something quite exquisite, 'shining light into dark places'"
Stage Talk
Lyrics by Chadwick from interviews with the journalists. For the interviews, we are deeply grateful to the following journalists: Shakh Aivazov, Margarita Akhvlediani, Goga Aptsiauri, Martin Bell, Ramzy Baroud, Leli Blagonravova, Sofia Chaava, Kate Holt, Larry James, Salome Jashi, Ewa Jasiewicz, Jana Javakhishvili, Maggie Kane, Temuri Kighuradze, David Kvijinadze, Giuliana Sgrena, Vakho Shalibashvili, Jack Shenker, Nino Shushania, Vaughan Smith, John Spaul, Chris Stephen, Guram Tsibakhashvili, Nino Zhizhilashvili, Zoriah, and anon as well as to Giorgi Gogia of Human Rights Watch and to the Tim Hetherington Trust and Stephen Mayes for permission to quote Tim Hetherington.
Cast
Helen Chadwick, James Lailey, Michael Mears, Rebecca Thorn and Oliver Senton.
Production Team
Helen Chadwick, Steven Hoggett, Miriam Nabarro, Penny Mayes, Natasha Chivers, Helen Porter, Pete Malkin and Andy Shewan.
Watch a video trailer of War Correspondents
Concert versions were performed in the UK and at the Abbey Theatre Dublin's Theatre of War Symposium
see video of the full concert
The song Journalists One is on the album House of Light found on the albums page
Song For Dover
Howard Moody and Helen composed Song for Dover for the arrival by sea of the Olympic Torch in 2012 for the Cultural Olympiad. On a wild night on the beach 40,000 people witnessed the arrival of the torch accompanied by songs, instrumentalists and a major firework display. It was produced by Pippa Bailey and The World Famous. The soloist was Tanja Tzarovska.
As well as SONG FOR DOVER Howard and Helen also composed…
Where Two Worlds Touch, a site specific performance created for Salisbury Cathedral commissioned by Salisbury International Arts Festival in 2011. The performance celebrated the commonality between religions, focussing on the great mystics from different religious traditions.
It involved two choirs, moving through the nave, a brass band and percussion, four soloists in the nave including Simon Grant and three angel voices (Chadwick, Victoria Couper, Barbara Gellhorn) singing from a thin ledge high up the west window from where the singing could be heard crystal clear. Creative Sufi dancer Ziya Azazi lifted the performance into another realm with his spinning.
Explore
Watch some video clips of our performances
A Body Of Song
The Queens' House is a perfect cube with a black and white marble floor, a spiral staircase, balconies and several entrances. It was such a joy to create this performance and the music for it. The audience were initially up on the balconies and later down below with us in the middle of them.
We hear a single woman's voice from above, she is joined by two others and we hear them spiralling down the spiral staircase just out of view. When they appear singing and moving, three other women enter from different doors and the six move and sing in communion with the shapes and story of the building. Later, three men surprise us by appearing unexpectedly from another entrance for the finale. With each voice's arrival the songs become richer and the harmonies more complex.
"The concert was unbelievably strong and far exceeded my expectations. Wonderful music and ideas, presented with passion and intelligence. Helen achieved extraordinary things with this illuminating project, which combined powerful ideas, music and movement with intimacy and style. It was a real tour de force evening of brilliance and passion."
Bradley Hemmings, Greenwich and Docklands International Festival Director
Cast
Helen Chadwick, Paul Chisholm, Sian Croose, Vivien Ellis, Joanna Foster, Barbara Gellhorn, Aileen Gonsalves, Ian Morgan and Daniel Tomlinson.
Explore
Joanna Foster and Barbara Gellhorn are long term collaborators. Joanna and I have been doing concerts together for more than 30 years! She was also in Home and Barbara was in Dalston Songs.